Is your property ADA compliant?
What is ADA Compliance?
The Americans with Disabilities Act (ADA) was passed by congress in 1990. The law is comprised of rules and regulations that businesses must implement to remove all barriers to access for disabled persons. It's designed to ensure those afflicted with disabilities have access to all businesses and public areas.
Being ADA compliant means your property is accessible to individuals with disabilities.
Is your business protected?
ADA Certification is provided by New Jersey State and local building officials. If your property has not been certified ADA compliant, your business is vulnerable to fines and hefty lawsuits.
How to Protect your Business
Titan's staff is certified in every aspect of ADA compliance. This includes ADA inspectors, ADA engineers, and ADA contractors, who will walk you step-by-step through the every process required to make your property ADA compliant. Be assured, our staff has the experience to meet all your ADA compliance needs!
What areas of your businesses' exterior need to be ADA compliant?
If you are operating a business or are the owner of a commercial property, your exterior spaces need to be ADA compliant. This includes handicap parking spots, sidewalks, handicap ramps, and steps and railings.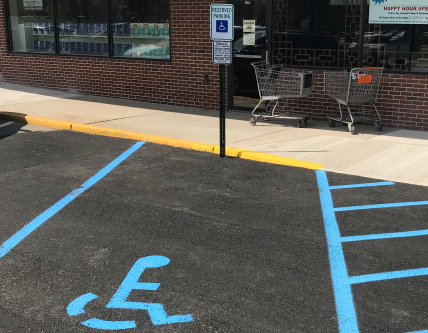 ADA Compliant Handicap Parking Spots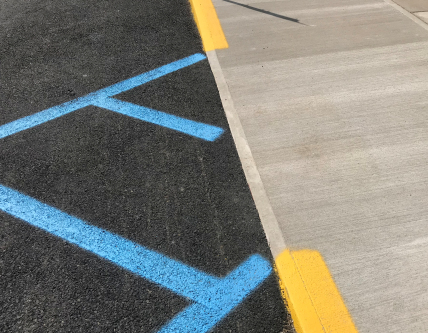 ADA Compliant Sidewalks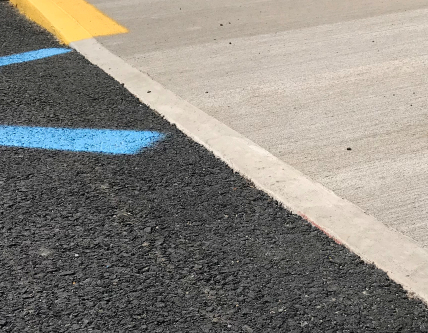 ADA Compliant Wheelchair and Handicap Ramps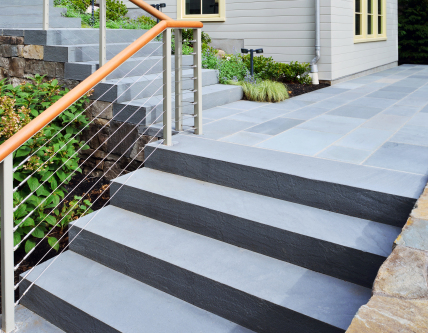 ADA Compliant Steps and Railings
From strip malls and shopping centers to restaurants and public parks, Titan installs ADA compliant parking spots, sidewalks, stairs and handicap ramps. The list below shows the different types of facilities that have employed our services.
Shopping Centers and Malls
Retail stores and Strip Malls
Apartment & Condominium Complexes
Housing Complexes
Restaurants
Office Buildings
Public Parks
Public and Government Buildings
Professional Service Buildings
Schools and Universities
Hospitals
Doctors' Offices
Rehabilitation Centers
Nursing Homes
Industrial Complexes
Sport and Entertainment Complexes
ADA Compliant Contractor Services
For over 15 years, Titan has been providing all of the services necessary to ensure your property is ADA compliant. These services include:
ADA Compliance Inspection
Engineering
Paving
Concrete
Masonry Services
Parking Lot Striping
Drainage
Stormwater Management
Landscaping
Railing Installation
3 Reasons Why Businesses, Municipalities, and Contractors Hire Titan for Building Exterior ADA Compliance Projects
IN-HOUSE ADA COMPLIANCE EXPERTISE

- Every project is staffed in-house with Titan employees, including ADA compliance engineers and contractors. Having engineers and contractors from one company eliminates miscommunication and costly rework-saving you time, energy and money.

PAVING and MASONRY CONTRACTOR

- Titan has a high level of expertise in all areas of construction which makes them a trusted company to choose for your ADA compliance needs. Our contracting staff specializes in paving, masonry, and drainage and has years of experience working on the same team as ADA compliant staff. This teamwork allows the Titan staff to not only deliver projects that are on-time and on-budget, but ones that pass ADA inspection.

ADA EXPERIENCE

- The Titan staff has 5 years of experience on ADA compliance projects. This expertise allows the staff to present several ADA compliant solutions at different price points. You can trust that the Titan staff will be efficient and knowledgeable, not only about ADA regulations and rules, but about the entire construction and inspection process.
AFFORDABLE and COMPLIANT

Our insurance company gave us a citation for non-compliance with ADA and we struggled to find a contractor with experience in ADA compliance. Titan took to the time to explain the law to us, and also presented us with several options to make the project affordable and our building compliant.
-Westfield Shopping Center
Westfield, NJ 07090
Titan ADA Projects Are Everywhere in New Jersey
New Jersey architects, engineers, property management companies, real estate owners, building managers, insurance companies, and business owners have relied on our ADA knowledge and high quality contractor services. If you look at your town's strip malls, restaurants, medical buildings, parks, and churches, you are sure to see our work. The list below is a small sampling of our recent ADA compliance projects.
Merck Pharmaceuticals, Rahway NJ
Westfield Shopping Center, Westfield NJ
Industrial Park, Union NJ
Meadows at Middlesex Golf Course, Princeton, NJ
Garwood Industrial Park, Garwood, NJ
Tamaques Park, Westfield NJ
Shopping Retail Facility, Summit NJ
Fairfield Industrial Park, Fairfield NJ
Linden Airport, Linden, NJ
Medical Offices, Chester, NJ
Retail Stores, Union NJ
The Titan Approach
Over the past 5 years, Titan's ADA compliance specialists have defined a process to ensure your project meets the government's ADA compliance requirements and your budget. The first step of the process is an on-site evaluation.. At that initial meeting, our ADA compliance engineer and contractor lead will evaluate your property and listen to your needs. Our team will then present you with solutions that are high quality and cost effective as we meet all business, zoning and ADA requirements. Even more, they ensure you'll minimize downtime and pass inspection.
In addition, our ADA compliance staff will advise you on your various options for the project, including a comprehensive description of costs and benefits for each option. These options will assist you in making a well-informed decision. During this consultation, we will also walk you through the process's steps and time frame.
New Jersey's ADA Compliance Company
NJ business and building owners have put their trust in Titan's ADA knowledge and implementation skills to guide them through the complex ADA compliance process from the estimation phase through installation and inspection.
Give us all call at (908) 654-4944 or email to discuss your project and receive a consultation.