Count on NJ's Drainage Experts to Solve Your Yard Drainage Issues
The Long-term Effects of Drainage Problems...
Stormwater runoff and the absence of an effective yard drainage system can cause water to pool on your property and make it impossible for you to enjoy your yard. Drainage problems can also create a variety of safety and maintenance issues, putting your family at risk and adding stress to your daily life. In addition, mosquitos and other insects are attracted to stagnant water in your yard, posing a health risk to your children and pets. Insufficient drainage systems around your home and deck can cause potentially dangerous structural damage to your home's foundation and porch. Soil erosion results from poor lawn drainage, leading to an unsightly, muddy yard where grass, plants or shrubs can't grow. If drainage problems in your yard are making your New Jersey home an eyesore, the experts at Titan can help!
Is this your yard?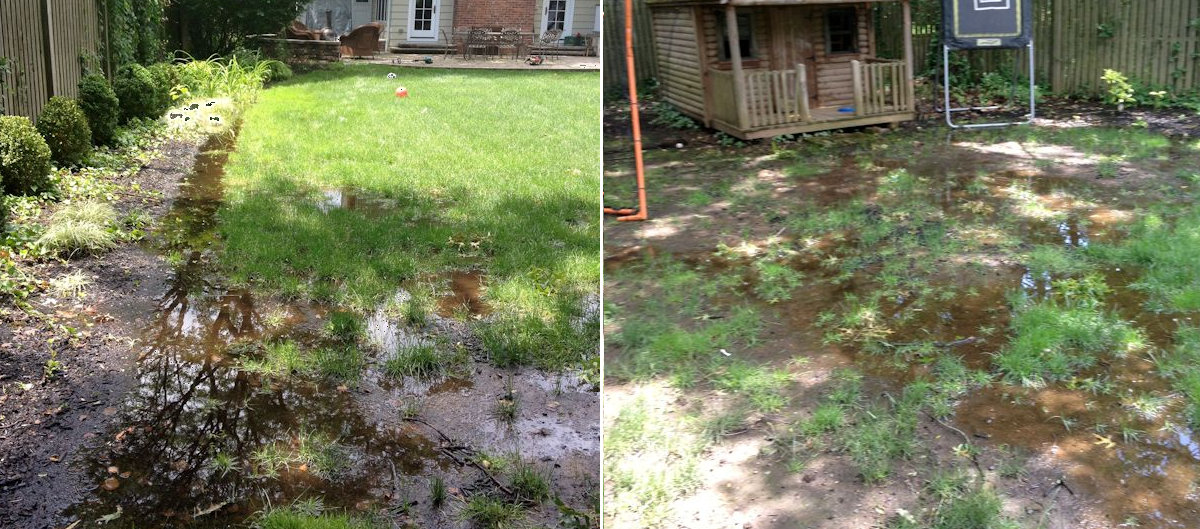 These backyard pictures are typical of the types of drainage and flooding issues we address with New Jersey homeowners. In fact, the above pictures were taken prior to our drainage solutions being implemented.
What can Titan drainage solutions do for your home, yard, and driveway?
Having accumulated more than 15 years as drainage contractors, the professional Titan team is uniquely qualified to assess your yard's drainage problems competently. We will design a customized yard drainage solution that will direct the flow of stormwater runoff underground, eliminating all drainage problems that create flooding on your New Jersey property. To redirect stormwater to the street, we'll install a catch basin and an extensive series of underground drainage pipes. For water that can't be drained directly to the road, we'll install underground dry wells to adequately collect rainwater and allow it to seep naturally into the earth. We use specialized equipment to install your custom yard drainage solution. This equipment enables us to accurately grade your property and achieve precise drainage pipe angles that provide durable, consistent underground water drainage while minimizing damage to your land and fencing. Count on Titan, the drainage experts your New Jersey neighbors have trusted to meet a variety of stormwater management needs!
Why Our Yard Drainage Solutions Work
Solving New Jersey's yard, patio and driveway drainage issues for over fifteen years, our drainage solutions enable water to flow beneath the ground and away from your yard, patio and home.
Titan Yard Drainage Solutions
More New Jersey Drainage Projects by Titan
Titan Drainage During and After

Soil Grading and Windows Wells
Titan Drainage During and After
Gutter Downspouts Connected to PVC Piping Delivering Rainwater to the Street
The Titan Approach
Over the past 15 years, we have perfected the yard drainage analysis, planning and installation process. If you are ready to start enjoying your property free of issues created by rain and stormwater flooding, call (908) 654-4944 or email us today to schedule your drainage consultation.