Looking to install asphalt paths?
Look no further- Titan's paving experts have you covered!
Whether you're a golf course looking to install new cart paths or a municipality needing to improve the running and biking paths throughout your parks, Titan can help! Our paving experts have been working with local New Jersey businesses, governments and non-profits for over 15 years installing and maintaining attractive and durable asphalt paths.
Types of Applications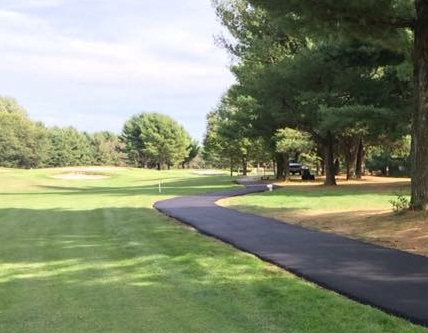 Golf Cart Paths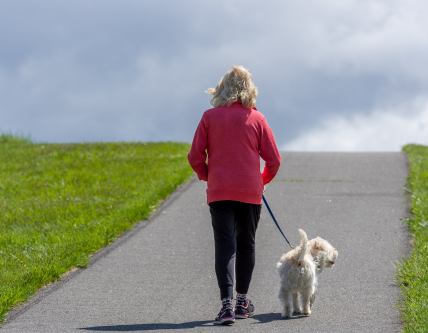 Running and Walking Paths
Bike Paths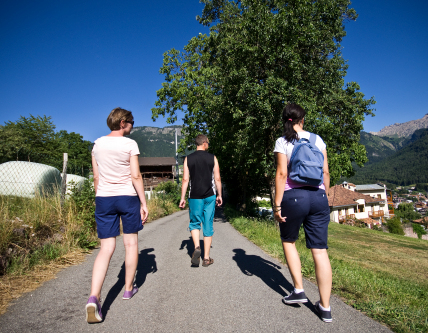 Trail Paths & Stone Paths
From golf courses and parks to office complexes and school campuses, Titan installs asphalt paths for a variety of applications and settings include the following:
Golf Course and Country Clubs
Office Building and Complexes
Parks
Retail Complexes
Housing Developments
Apartment Complexes
Condominiums
Pharmaceutical Campus
Industrial Parks
Airports
Recreation Facilities
Sports Complexes
Schools
Universities
Colleges
Camp Sites
Hospital
Every Titan Asphalt Path Installation Looks Great, Saves Money, and Is Durable
Expertise + Right Equipment on the Job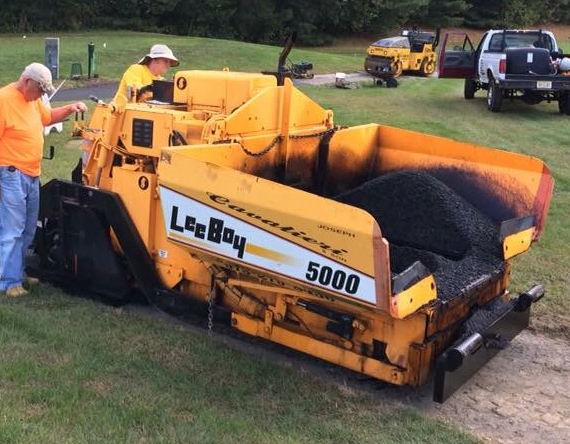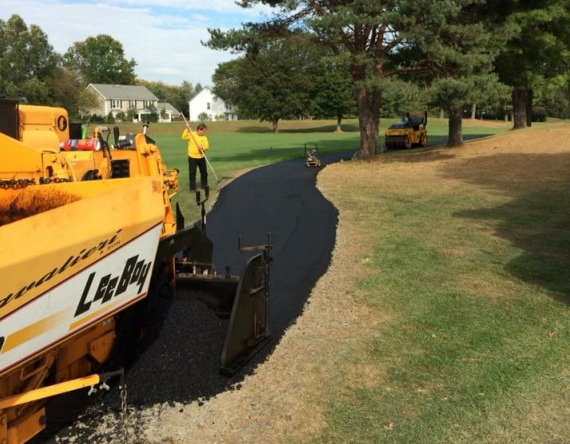 Titan Golf Cart Path Installation with the Leeboy 5000 Path Master Paver at the Meadows at Middlesex Golf Course in Princeton, NJ (2017)
Regardless of your land's topography, our specialized path paving equipment is designed to create beautiful paths. It's precise application maintains your property's aesthetic beauty while minimizing damage and business disruption during the construction phase. And because our equipment is precise and our process efficient, there is no excessive use of material or waste of resources fixing the landscaping and property ruined by bulky and ineffective paving equipment... saving you time and money.
4 Reasons Why Businesses, Governments and Contractors Hire Titan for Asphalt Paths
RIGHT EQUIPMENT

- While most paving companies rent equipment to work on jobs, Titan understands the value of owning the highest quality equipment and training it's staff to work with that same equipment. This ensures our clients get the highest quality service and path, every time. Our asphalt path paving equipment includes the following:

Asphalt Path Paving Machine - Titan is one of only a handful of New Jersey paving contractors who owns a Leeboy 5000 Path Master Paver. The Leeboy 5000 is only paving machine specially designed for asphalt pathways.
Milling Equipment - We use top of the line Bobcat A770 all wheel steering machine with a 40" Bobcat cold planer attachment for the milling process. We also use a 7ft full size Wirtgen or Roadtech milling machine for full out cart path replacement.
Topsoil Bucket - At your request we can topsoil the edges of the new cart path with our HLA Side Discharge Bucket. This attachment allows us to dispense topsoil to either the right or left sides of the cart path. This equipment avoids having to use trucks and extra manpower which causes damage to the new cart path and surrounding turf. This process is the most efficient method to apply topsoil to cart path edges.
Tires - To minimize damage to your landscape and property, we employ our Bobcat A770 All Wheel Steer Skid Steer with Turf Tires. Turf tires are specifically engineered to minimize damage to turf, concrete, asphalt, and grass.

SAVE MONEY - Because our staff is experienced in using The Leeboy 5000, every installation is precise, fast, and clean. This process reduces labor hours during the installation process and eliminates costly repairs to existing structures and landscape.
EXPERTISE and STAFF - The installation of asphalt paths is unique skill set in the paving industry. Our loyal staff is trained and experienced in all aspects of the path installation process including design, drainage, elevation, landscaping and paving.
BEYOND ASPHALT PATHS - Not only do we install asphalt paths, but we also provide a host of complimentary services designed to remove the frustration of dealing with multiple contractors. These services include:

Drainage and Elevation
Landscaping
Stormwater Management
Milling
Masonry Services
Plus, other paving services including parking lot paving and striping
Titan Paving Projects Are Everywhere in New Jersey
New Jersey businesses, residents, and municipalities have enjoyed the high quality of our asphalt services. Look around at your town's parks, shopping centers, and churches, and you as sure to see our work! The list below is a small sampling of our recent asphalt path projects.
Meadows at Middlesex Golf Course, Golf Cart Paths, Princeton, NJ
Gumpert Park, Biking, Jogging and Walking Paths, Westfield, NJ
Tamaques Park, Biking, Jogging and Walking Paths, Westfield NJ
Shopping Retail Facility, Walking Paths and Parking Lot, Summit NJ
Fairfield Industrial Park, Walking Paths and Parking Lot, Fairfield NJ
Linden Airport, Linden, Runways and Cart Paths, Linden, NJ
Merck Pharmaceuticals, Parking Lot, Cart and Walking Paths, Rahway NJ
Westfield Shopping Center, Parking Lot, Walking Paths, Westfield NJ
Agape Church, Parking Lot, Walking Paths, Rahway, NJ
The Titan Approach
Over the past 15 years, we have perfected the asphalt installation process from start to finish. First, one of our paving specialists will contact you to coordinate a site visit to understand your project needs. Once on site, we will inspect the land where you would like the paths installed and make recommendations. The entire process is guided by you; we simply provide the expertise! After evaluation, our paving specialist will give you various options for the project, including a comprehensive description of costs and benefits for each option. These options will assist you in making a well-informed decision. During this consultation, we will also walk you through the process's steps and time frame.
New Jersey's Asphalt Path Company
Satisfied clients for over 15 years and hundreds of asphalt path applications in the NJ area are testaments to our expert staff, precise application, and high quality service.
Give us all call at (908) 654-4944 or email to discuss your project and receive a consulation.