NJ's Trusted Driveway and Parking Lot Paving Company
Understanding the Big Picture...
Installing a driveway or parking lot involves much more than paving alone. Your property and its surroundings need to be comprehensively evaluated for elevation, water drainage and stormwater management systems. Based on this evaluation, the area to be paved needs to be adequately prepared to prevent flooding in your future driveway or parking lot. Since 2003, the professionals at Titan have been installing durable, flood-free asphalt driveways and parking lots throughout New Jersey. What's more, Titan has perfected the asphalt installation process to make it convenient and cost-effective to have your driveway or parking lot paved without the hassle of hiring and coordinating the work of multiple contractors. From design through installation, our highly trained team of paving and drainage system specialists have the experience and know-how to provide you with a functional and attractive paved parking lot or driveway.
Functional Parking Lot and Driveway Drainage Solutions
It's essential that your driveway or parking lot be graded accurately to prevent stormwater runoff from pooling on the paved surface or surrounding land. The Titan professionals will use specialized equipment to precisely grade your property and also install a catch basin and an extensive series of underground drainage pipes to direct the flow of stormwater to the road. For water that can't be drained directly to the street, we'll install underground dry wells that will collect rainwater and allow it to seep naturally into the earth. You can rely on the Titan team to create a durable, attractive and affordable paved driveway or parking lot that incorporates an expertly designed and installed stormwater drainage system!
Titan Paving Solutions
Why Our Paving Solutions Are Both Durable and Affordable
Specialized Paving Equipment & Comprehensive Property Evaluation
Our 15+ years of experience and our use of specialized paving and landscaping equipment allows the Titan team to create durable paved driveways and parking lots that are free from stormwater drainage issues. Our outstanding work has earned us a reputation as the #1 asphalt paver and water drainage expert in New Jersey. Titan's specialized paving equipment is designed to create functional, attractive driveways and parking lots while minimizing damage to your surrounding landscape and structures. We use state-of-the-art grading machines to ensure consistent slope and leveling of your site. Appropriate slope and leveling helps with above-ground drainage and allows us to achieve precise angles for your underground drainage pipes. Our computer-aided roller optimizes asphalt compaction to remove excess air and achieve peak asphalt performance. Our use of precision equipment helps ensure that your driveway or parking lot functions optimally. It also lowers your costs by minimizing damage to landscaping and property that would be ruined by bulky and ineffective paving equipment.
More New Jersey Paving Projects by Titan
Titan Paving (with Drainage) Before and After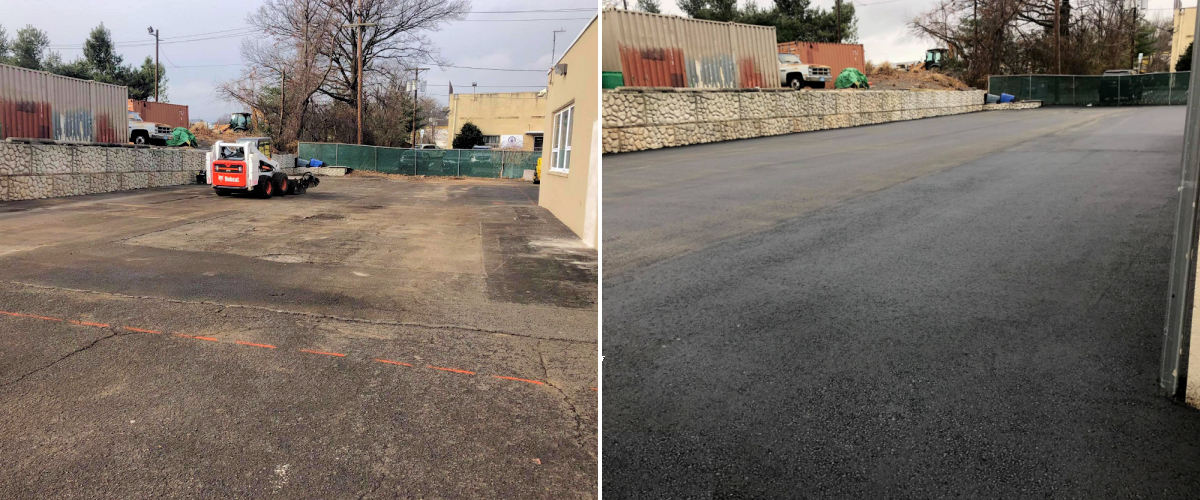 Asphalt Parking Lot Installation Graded to a Compound .75% Slope. Our Paving Equipment has State of the Art Sonic Laser Automated Grade Control.
How Much Does an Asphalt Parking Lot or Driveway Cost?
The Titan Approach
For the past 15 years, we have perfected the paving process installing durable and affording driveways and parking lots throughout the New Jersey area. If your parking lot or driveway needs replacement, call NJ's trusted paving contractors at (908) 654-4944 or email us today to schedule your paving consultation.