Why it's important to have a high quality home specialist keep your home, driveway, patio and yard dry.
"When it rains, it pours" and no one knows that better than Titan Property Maintenance. Your yard serves as a playground, garden, dog run, and entertaining destination- not a swamp. Don't let it turn into one. Allow us to provide you with a drainage solution that puts a stop to the flooding in your yard.
Why do you have drainage problems?
As stormwater rains down, it runs downhill. This means it naturally flows to lower grounds. Poor grading prohibits water from properly dispersing, causing it to collect in certain areas.
Is this your yard?
Do you have backyard drainage issues or backyard flooding issues?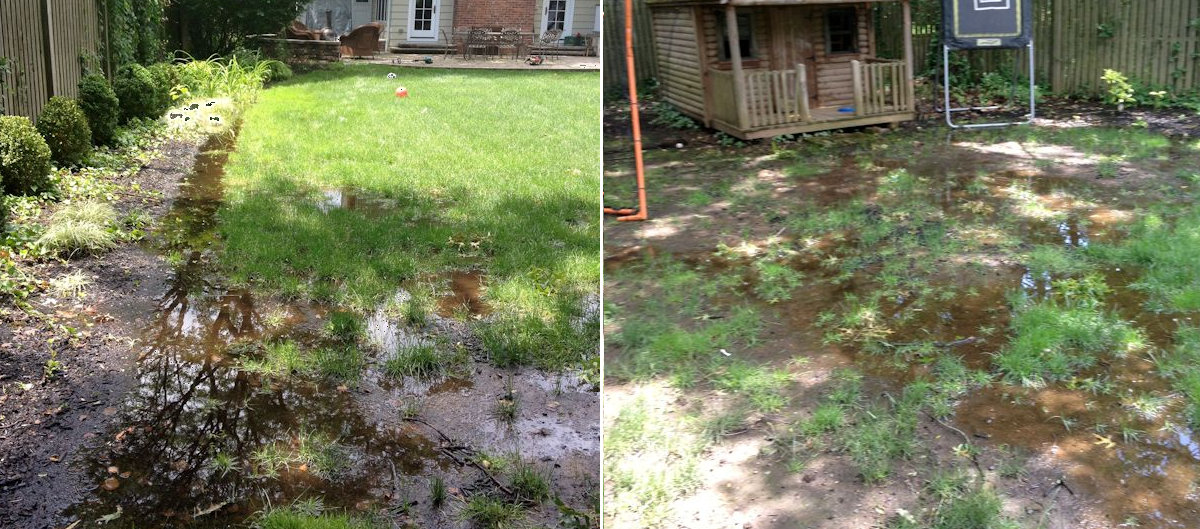 What are the long-term effects of drainage issues?
Let NJ's yard drainage experts help you get the most out of your property by eliminating stormwater issues. Rainfall and snowfall during Cranford's hot summers, cold winters, and formidable storm seasons take a toll on your property's ability to defend itself. Throughout the town, we have removed dead, diseased, and dangerous trees, added rain gardens, properly constructed downspouts to PVC piping eliminating roof runoff allowing homeowners to regain control over their yards. Our drainage experts will evaluate each home and property to determine viable options and create a plan of action. Call us today and you will gain access to your property all year round.
What can Titan drainage solutions do for your home, yard, and driveway?
Solving Cranford yard and driveway draining issues for over fifteen year,
Cranford yard drainage solutions
enable water to flow beneath the ground and away from your trouble areas.
We first evaluate your unique property with a Topcon Laser level to determine exactly where the water should be channeled.
Then, we will create a customized water management plan including all necessary measures to rid your yard of excess water. Our stormwater management redirects piping to the street, draining the water and keeping your home, yard, and driveway dry.
Cranford Drainage Projects by Titan
Titan Drainage Before and After

Titan Drainage Before and After
More Titan Cranford Drainage Projects
Popular Cranford locations where you can see our work.
Centennial Ave.
South Ave.
Springfield Ave.
Casino
Raritan Road
Hamilton Ave.
Prospect St.
Forrest Ave.
Cranford Center of Town
What do our storm water and drainage solutions include?
METICULOUS and CARING!

I had serious issues with sitting water in my backyard had several companies come out and to give me quotes on work necessary to correct my drainage issues while also beautifying my yard. Don Mutz came out and immediately I was comfortable with the game plan we came up with and the price. Don was meticulous and cared as much as I did to ensure the job was done right and that my neighbors properties were not disturbed in any way. My backyard now looks fantastic and more importantly all storm water drains out to the street the right way! I highly recommend Titan for drainage issues.
-Mike M.
Homeowners
Cranford, NJ 07016
Most properties in Cranford have some drainage issues. Our main focus is to provide a positive grade around your home and as many drainage pipes to the street as possible. When water cannot be drained directly to the street, we install dry wells beneath the surface. A drywell is placed under any area susceptible to flooding including yards, driveways, decks and porches. This allows rainwater runoff to adequately collect before naturally seeping into the earth. Additionally, we will install a catch basin to collect the water and redirect it to the street and underground waterways. Our services extend to land grading and other measures to ensure the protection of your home and yard.
Why is Titan considered the best Cranford Yard Drainage company?
Protecting your home, driveway and yard is what we do! Timely, cost effective, and dry! Guaranteed!
Satisfied clients for over 15 years and hundreds of properties in the Cranford area are testaments to our high quality of service. Get a Drainage Estimate and your home can be protected and your yard can be restored to the playground, garden, dog run, or entertaining destination it is meant to be.